Request for Free Smart Water Leak & Freeze Detector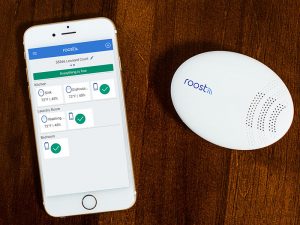 Erie Insurance has partnered with Roost to offer free Smart Water Leak & Freeze Detectors to our valued clients.
The purpose of the detector is to help you monitor changes in temperature, humidity and water events in your home. Installation is simple & only requires you have a Smartphone and Wi-Fi in your home.
If you are interested, McCollum Insurance can sign you up now and then Roost will send the detector right to your home. It takes about 7 to 10 days to receive the device. If the device senses a change in temperature or humidity or a water event, you'll receive an alert on your smartphone. As part of this free program, there is a brief survey after you get the device and install it. We ask that you complete the survey to give us feedback on the pilot.
For more information on the Roost Smart Water Leak and Freeze Detector, click here
To request your Free Water Leak and Freeze Detector, register below.