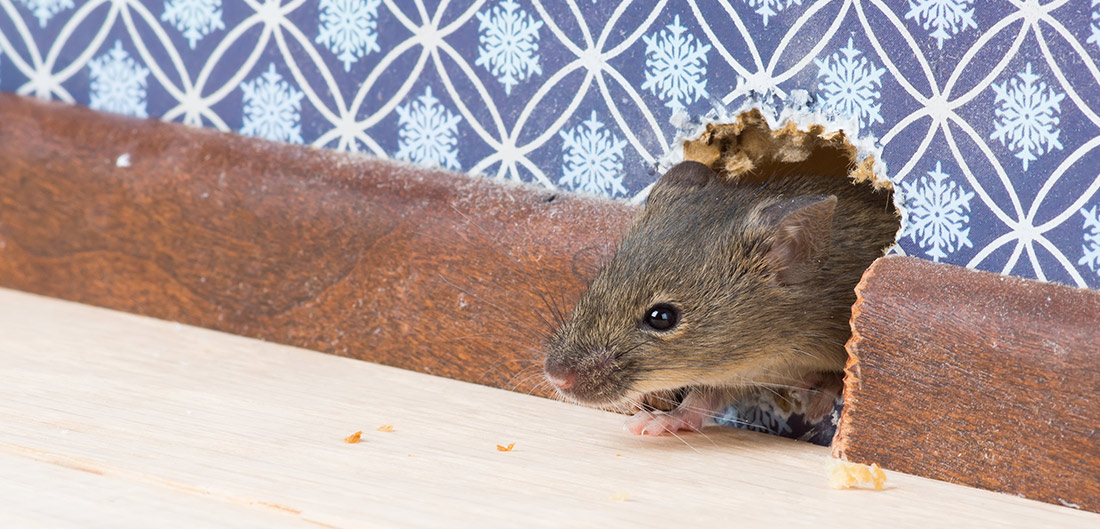 Is there a mouse in the house?
It's unpleasant to think about, but it can happen to anyone. Mice and other rodents can make their way into your home in search of food, shelter and a place to nest. Even if you think mice were cute in the movies, rodents can be destructive and carry disease. Here are some smart steps to prevent and respond to a rodent invasion.
Rodent prevention
Look at your home and yard from the perspective of a mouse and you will likely see opportunities for them to enter and make themselves at home.
Look for holes. When you find them, whether they are inside or outside your property, you'll want to plug them with steel wool and patch with cement. Remember, almost no opening is too small. Many pest-control specialists say all a mouse needs is a quarter-inch opening.
Rethink your food storage practices. We all love buying in bulk, especially when it comes to staples that come in large bags, such as dry pet food. Unfortunately, if you store it in the sack it comes in, you're pretty much rolling out the welcome mat to mice and rats, who can sniff out an easy food source. Instead, store the chow in a large container with a tight-fitting lid.
Clean up your act. Store trash in closed containers with tight lids and get your family members in the habit of cleaning up after themselves when they're finished eating (wipe up spills and sweep crumbs). Every month or so, pull out your kitchen appliances and clean up any spills or morsels that are under and behind the refrigerator or oven.
Set out traps. Traps work especially well in the garage, shed, basement, pantry and kitchen. Remember, rodents feel unprotected when they venture out into open spaces, so the best place for a trap is next to walls and enclosed areas where they're likely to feel safe. Be sure and check these traps regularly.
Dealing with rodents
Here are the classic signs that mice or other rodents have taken residence in your home:
small droppings
shredded paper or other material that could be used as nesting material
signs of gnawing
sounds of scratching and scampering, especially inside walls
If you have the signs, set up your traps, or make sure existing ones have fresh bait. Check these each morning, and wear rubber gloves during cleanup. If trapping is not successful, it's time to call a professional pest control company.
Be safe during cleanup
Once you are sure the rodents are cleared out and you took steps to seal your entrances, it's time to clean up. However, it's important to protect yourself or you could become ill. For example, rodents are sometimes carriers of a serious respiratory disease called Hantavirus. Humans can catch it from making contact with the urine and feces of infected rodents.
Even if there isn't a Hantavirus outbreak in your region, rodents are potential carriers of nearly three dozen other diseases, so always take precautions during cleanup to minimize your risk:
Cross-ventilate the room for at least 30 minutes before starting cleanup.
Spray down infested areas with a bleach and water solution to avoid inhaling the dust.
Wear rubber gloves and a mask and use disposable paper towels.
For more tips on safe cleanup in any room, the Centers for Disease Control and Prevention has plenty of additional information.

The McCollum Insurance Agency, established in 2002, has two convenient locations to assist with your Personal, Business, and Life Insurance needs. We opened our Manayunk Location in 2002, and our Edgemont – Newtown Square Location in 2016. Our Agency is passionate about being a leader in the insurance industry, and we welcome the opportunity to discuss your Auto Insurance, Homeowners Insurance, Life Insurance, and Business Insurance needs